Add a cost to your budget
In VOGSY, costs are any purchases you make, including materials and services, in order to complete your project.
To add a cost to your budget, do the following:
Click Projects. The Projects view displays.

Scroll to the project that holds the deliverable to which you want to add the budget.

Find the deliverable and click Allocate budget & resources. The New Calculation form displays.

Click the Costs tab and then click Add Cost.

Complete the Add cost line form. See Field descriptions for more information.

Click Save. The form will close and the cost will be added to the Calculation card.
Field descriptions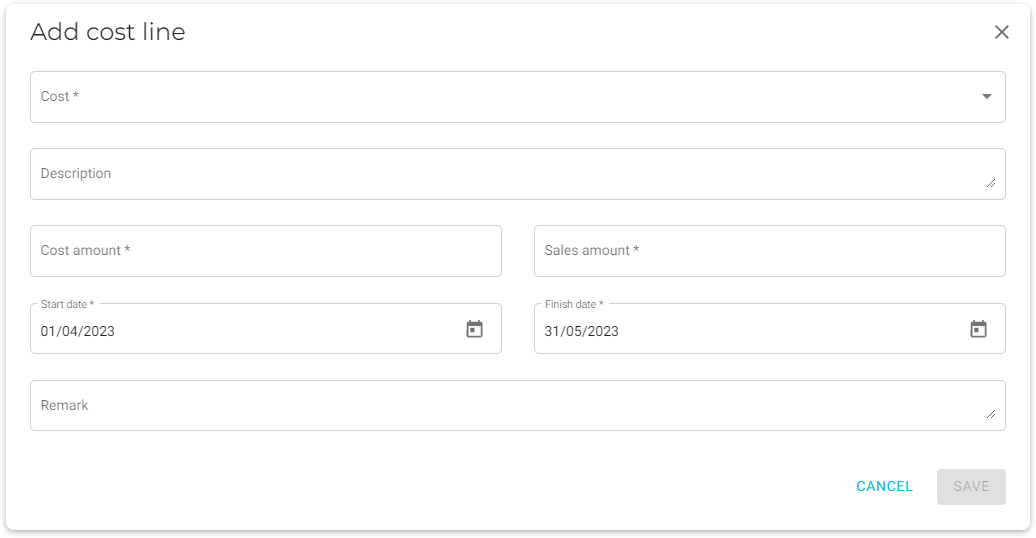 | Field name | Description | Required? |
| --- | --- | --- |
| Cost | Select the appropriate type of cost from the drop-down list. | Y |
| Description | Use this field for a short declaration about the cost. The description is only used as a reference on the quote and the order confirmation. | N |
| Cost amount | This is the actual price of the cost. | Y |
| Sales amount | This is the cost amount plus any markup you choose to add. This is the amount that is invoiced to the customer. | Y |
| Start date/Finish date | Choose the time period for which the cost applies. | Y |
| Remark | Record any information here that you believe is important to know about the cost. | N |