Planning projects
The Planning Projects view is part of VOGSY's suite of planning tools. It displays a list Ghant-style view of all active projects as of the date of viewing. This view allows you to see your gaps in the planning of hours and personnel, and to find the best moment for starting new projects.
Field descriptions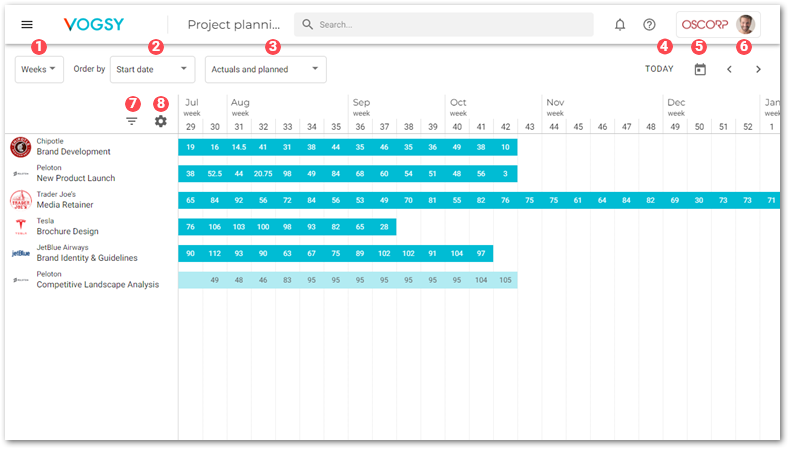 | | |
| --- | --- |
| | Project hours are represented as blue bars; projects that are still pending and have not been confirmed are shown in light blue. |
The calendar view can display by Weeks or by Days. The default view is Weeks.

The projects can be sorted by Start date, Finish date, Customer name. The default sorting order is Start Date.

Type of hours: Actuals and planned or Planned only.

Displays data starting from the date of viewing. If you are viewing future planning, click this button to return to current planning.

Use this calendar selector to go to a specific day (if the calendar view is set to Days) or to the week that contains the day that you select (if the calendar view is set to Weeks). Click Today to return to the current day or week.

Move the calendar view forward or backward. Click Today to return to the current day or week.

| | |
| --- | --- |
| | Another way to move forward or backward through the calendar is to click, hold, and drag to the left or right. |

Select the Details checkbox to display the hours on the calendar view. The meaning of the hours depend on what you selected in the Type of hours drop-down list ().

Displays the Filter projects form. You can filter by the following properties:

All projects (default setting) or My projects

Department

Status

Project manager
The planning view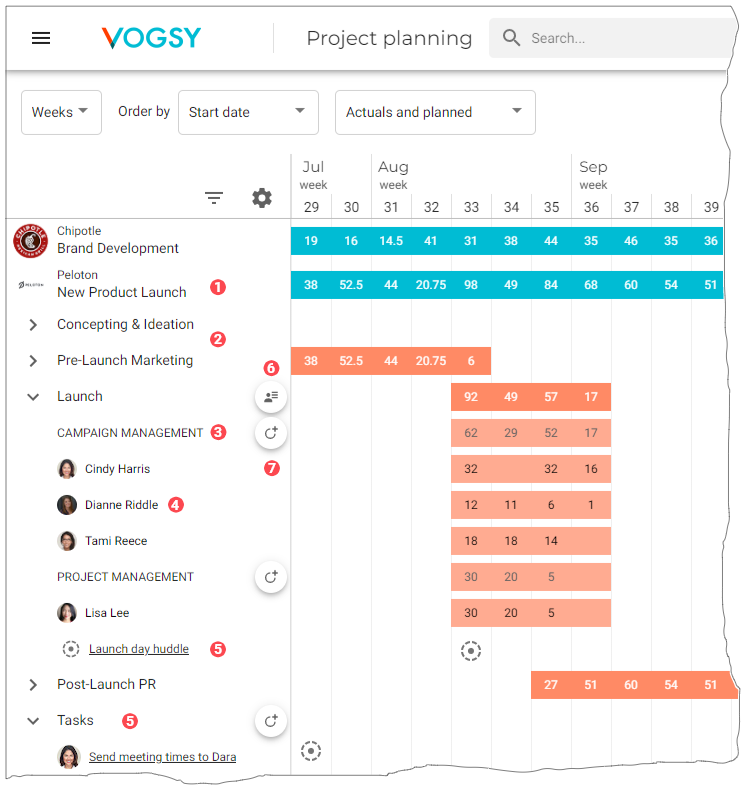 You can accomplish several things from the Planning Projects view:
Click a project () to display its deliverables ().

Click a deliverable to show its activities (), tasks (), and allocated resources ().

Click the Update budget and resource allocation button () to open the Calculation window for editing.

Click the Add a task button () to open the New task form.
| | |
| --- | --- |
| | You can edit a resource's () planning hours from this screen by going to the appropriate resource and clicking the cell for the appropriate day. A Planning form will display where you can change the resource's hours. |