View all tasks
To get a global overview of all tasks that were created in VOGSY, click [

Tasks ] in the side panel.
There are two viewing options: By status or by By due time.
View by status
The default setting for viewing tasks is By status.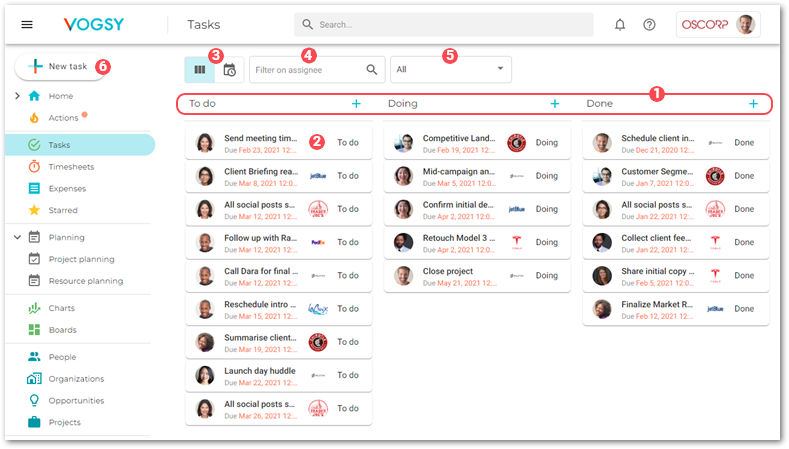 | | |
| --- | --- |
| | Status columns. By default the titles are "To do", "Doing", and "Done", but you can rename the status names or even add new ones. See Add a status to the Tasks view. |
| | |
| | Click to switch to the By due time view. Click to switch back to the By status view, which is the default setting. |
| | Assignee filter. By default everyone's tasks are displayed. To display the tasks that are assigned to a specific person, type their name into the field and hit Enter. |
| | Object filter. Gives you the option to filter tasks by project, opportunity, organization, department, or by those that are assigned to you. By default this filter is set to All. |
| | Create a new task by clicking New Task. |
View by due time
The alternative setting for viewing tasks is By due time.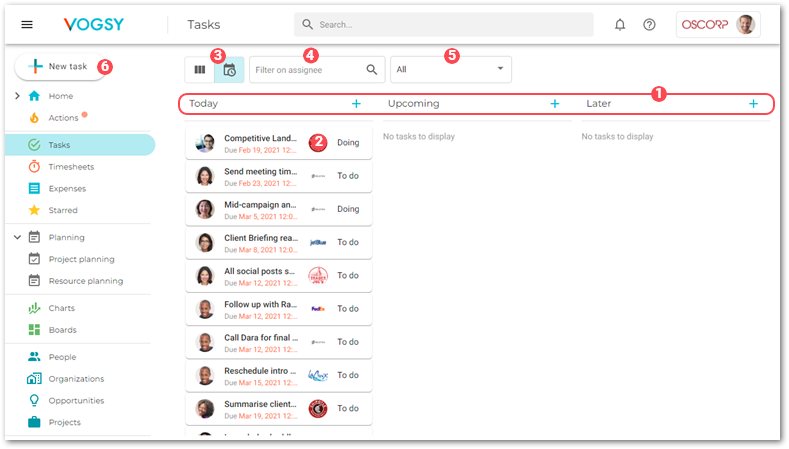 | | |
| --- | --- |
| | Alternative columns that allow you to manage tasks by when they are due. These columns cannot be renamed. |
| | |
| | Click to switch to the By status view, which is the default setting. Click to switch back to the By due time view. |
| | Assignee filter. By default everyone's tasks are displayed. To display the tasks that are assigned to a specific person, type their name into the field and hit Enter. |
| | Object filter. Gives you the option to filter tasks by project, opportunity, organization, department, or by those that are assigned to you. By default this filter is set to All. |
| | Create a new task by clicking New Task. |